

Working time
| | |
| --- | --- |
| WEEK DAYS: |  07:00 – 22:00 |
| SATURDAY: |  08:00 – 18:00 |
| SUNDAY: | 08:00 – 18:00 |


Smooth And Secure Home Moves By A Professional Moving Company. Prices starts from only £70P/H. Complete Home Removals Services. Modern Fleet of Vehicles in All Sizes
Home Moving Services London
Let us do the packing and make moving easier for you!
Moving homes from one place to another sounds pretty interesting, but at the same time, it is quite an exhausting process. Even the thought of packing up the house is stressful, especially with the busy life that people lead in London.
 A house moving company is all you need, so look no further because MTC Removals is all you need for home removals in London. It's safe and has a team of highly trained professionals who know how to get the job done. Still unsure? Keep reading so you can make the right decision. 
House Movers – From London to anywhere in UK

​
Free Online Quotes, 1​00% Reliable and affordable. Fully Insured Friendly Service. 7x Days a week Available, Flat Removals London, Man and Van Service. Packing and Moving Service London. Book a Van Today.
Services Provided by MTC: House Movers London
Packing and moving of any sort makes people stressed; why bother when MTC Removals provides their service. Keep up with your excitement, and let us worry for you. Our company is known for quite a few services including 
Yes, that's right, we are the house movers London that you need to move from one home to another ideally. From moving to packing to even helping you clean your new homes and offices and disposing of your old home and office waste, we do it all! 
We believe in a no-stress policy for our clients, so let us worry while you can walk into your new home and enjoy the new place.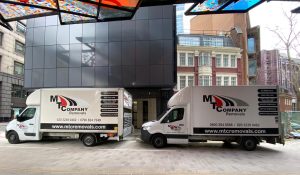 How to Arrange Home Removal Service?
Finally decided to move out and looking to connect with MTC removals the perfect house movers London; you need not worry because here are a few ways you can connect with us and allow us to assist in your home/office removals:
Arranging home removals company with MTC Removals is relatively easy; we have promised you a stress-free house moving, and that's exactly what we'll give. 
1. Want to know how much you need to pay for any services you are willing to avail? Contact us through our WhatsApp number is 07908 247249, or give us a call at 02038118380. 
2. We are the house movers London who make it convenient for you to get a quotation for the services you want to avail of from our website. No call hassles or typing long messages. Just provide us with the necessary details, and we'll give you a free house move quotation. That's how easy it is at MTC London Removals Company.
3. A customer service representative may give you a call regarding your quotation, or you may receive an email. By confirming with the representative and choosing the time and date, get the removal booked. 
4. Book according to your needs and enjoy a stress-free move by choosing house movers London, MTC Removals.
What information do you need to provide us to get the quotation for your removal services? 
1. Location from where the moving is done to the other location where it needs to be moved. 
2. Provide the van access, such as the space for parking, loading, and unloading for furniture. 
3. Day and dates for the removal service. 
4. Make sure you specify what time your current needs to be cleared. 
5. What services do you want to avail of from MTC Removals? Mention all of them. From packing to clearing and cleaning, let us know what you need. 
6. Mention the number of large objects, fragile furniture or objects, electrical items, if any.
Why Choose MTC Removals: The Perfect House Movers London? 
Affordable House Removals Services – Londons Best House Movers
Quality House Removals Services –  Based in London
At MTC Removals,  Flat Removals London we believe in providing the best services. The reason why our team has been trained to deliver high-quality house moving and a stress-free, premium customer experience. 
We do not take any chances with what our clients trust us with, keeping in mind that everything and anything is handled with care during the move. 
Premium customer services and aiming for the best prices possible, we are the perfect combination you need. 
From premium services to experienced professionals, our staff is kind and willing to help you with whatever you need. MTC Removals provides it all!
Takeaway:
From a busy routine, every individual needs to take out time. But why worry when there are trained professionals like us willing to do the job for you? Give us a time and provide us with the keys for your new and old house and leave for work. Meanwhile, we will do the house moving for you, so you can quickly come to your new place and not worry about the hassle of moving at the end of the day. 
So if you are looking for professional, structured, and easy on-pocket house movers in London, get a free quotation from MTC Removals and get in touch with the staff so we can get started.
Removal Services for Your Stress-Free Home Moving
Have you had experience with a home moving service in London that left you stressed and exhausted? You chose wrong! If you are planning to make a move and are worried about how your experience can be as stress-free as possible, you need to choose MTC Removals, the home moving service in london that is out here to serve you and make your home moving a stress-free experience. Keep reading to find out how we can help you out!
Why Do You Need to Choose a Reliable Home Moving Service London?

 
Choosing a reliable and stress-free home moving serving London is what MTC Removals offer you. We provide a premium home moving experience with efficient workers, up-to-date van service, and all the services that will make your experience smooth.
Do you need to hire crates? Or do you need a packaging service to avoid the hassle of packing and unpacking everything all over again? Or do you need our van services that are up to date and GPS attached so we can monitor your belongings during the move? MTC Removals has it all! Since the past couple of years, our home moving service London has excelled in providing customers with a stress-free and comfortable moving experience. 
As a result, quite a few people have chosen us for their home removals. Remember, you can count on us whenever you require a service with trained professionals who know the task and provide you with a stress and hassle-free service!
How Do We Ensure a Premium Experience?
We ensure you get the best services and to make that possible we provide you with the best services all over London. Some of the added benefits of choosing MTC Removals include the following: 
We Offer Special Prices in the Market:

 
Moving is an expensive process and hence requires a lot of budgeting beforehand. To make that possible, you can quickly fill the form and get a free quotation and survey, so you know what you are getting yourself into a few weeks before only. Our prices are customized, and we make sure they are budget-friendly and help you save money. 
We offer Guaranteed Safety of Belongings:

 
MTC Removals is the choice of many people all over London because people know we are the home moving service london that prioritizes customer belongings. Our services are designed and aligned, keeping the safety and security of your belongings first. We have professionals that carry your stuff with utmost care and different straps, and an updated van makes sure everything is delivered as it is.
We Handle Furniture Perfectly:

 
At MTC Removals, we hire the perfect candidate who can carry your furniture with ease. They can easily dismantle everything and put it all together in your new location, so you feel comfortable and at ease in your new home. 
We Provide Crates and Packaging Service:

 
The perfect reason you should choose to hire us is the crate and packaging services we provide. Are you free on the weekends and want the packaging to be done then? Our team will be at your place and help you pack all your belongings and items safely for a move that you can schedule later. We make it easier for you! Choose us to feel at ease.
How Can You Avail Our Home Moving Services London?

 
Step #1 Get in touch with us by calling or messaging us at 020 3811 8380 and 079 0824 7249, respectively. You can also get in touch with us through our website and get a free quotation by filling up our form given online. Please provide us with all the information. 
Step #2 After our quotation, you can easily decide the services you are looking for and book us by letting us know the time and date that works perfectly for home removal services. 
Step #3 The day you have decided to move, our team of experts will arrive at your place ready to help you make a move from your home to the new one. They'll help you load all your items, unload your items with the utmost care, and even help you pack. All the services that you have chosen will be provided to you by the team.
Make the decision and choose us for stress and hassle-free home moving services london!