Home and Office Removal Services at Best Price in UK


Competitive Removals Prices in London – MTC Removals
Relocating to a new home can be stressful. It can be especially difficult if you have a lot of belongings to move. That's where MTC Removals comes in. We offer very good prices for our services, and we take care of everything for you. So whether you're moving across town or across the country, give us a call! We'd be happy to help.
Take The Hassle Out Of Moving Your Goods And Request A Quote Today
We are a Removals Company based in London, Offering all kinds of removal services at very competitive Prices
At MTC Removals, we take pride in always providing the best quality service at the lowest possible cost. We are removals experts based in London and we operate 7 days a week in order to better serve our customers. Our removals prices are always inclusive of dismantling and reassembling any furniture required for the move – We never have any hidden Charges..
Throughout London, We are proud to provide very Competitive prices, as well as the best trained Staff
Additionally, we don't charge for things like flights of stairs or short jobs, and there is no fuel or mileage charge for jobs within London. Our excellent reputation speaks for itself, and we have a long track record of successfully assisting customers all over the UK. When you choose us for your removals needs, you can rest assured that you're getting the best possible service at the best prices
Best Removals Price in London,UK – Hourly Rates & Packages
1 x Man and a Luton Van: £60P/H

£60P/H

( minimum of 3 hours apply)



Hire a Luton Van and Driver: £60P/H

1 x Man and a Luton Van: £60P/H per hour

(Minimum Charge 3 Hours), Book your removal van Call: 020 3811 8380.

Cheap Man and Van Removals Prices in London – MTC Removals

2 x Men and a Luton Van : £75P/H

£75P/H

( minimum of 3 hours apply)



 

Hire 2 x Men and a Luton Van: £75P/H

2 x Men and a Luton Van: £75P/H per hour

(Minimum Charge 3 Hours), Book your removal van Call: 020 3811 8380.

How Much Does a Man with a Van Cost?

3 x Men and a Luton Van : £90P/H

£90P/H

( minimum of 3 hours apply)



 Hire 3 x Men and a Luton Van: £90P/H

3 x Men and a Luton Van: £90P/H per hour

(Minimum Charge 3 Hours), Book your removal van Call: 020 3811 8380.

Costs of Moving in London & the UK in 2022
We understand that moving can be costly. That's why we offer very competitive removal prices to suit your budget.
Whether you're moving locally or long distance, we can help make the process more affordable.
Removal Company Prices in London 2022
Vans Equipment:
All our removal vans are equipped with trolleys, blankets, straps, bungee cords, tracking, sat-nav, tools.
Our vans are only used to transport furniture, household items.
Additional Information:
If Congestion Charge and ULEZ charges apply, these will be added to the final price upon job completion.
Removal Company Prices : How Much Does it Cost?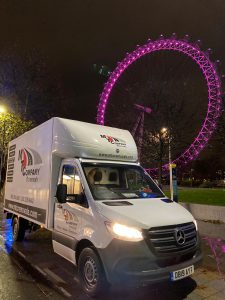 Moving house is often a stressful time, even without the thought of packing your whole life up in a van. It can seem tempting to avoid wasting money and by doing it yourself, but you'll run into the danger of damaging your personal belongings in addition to wasting valuable time. If you hire a removal firm, they'll not only do all the diligence for you, but they're going to also offer you complete peace of mind throughout the move.
What amount do movers cost?
Despite how far you're moving and the amount you're moving, you can wager employing movers will not be modest. While enrolling in a moving trucking company is regularly very expensive, many will reveal to you that it's additionally certainly justified regardless of the cost. All things considered, moving to another house is work concentrated and physically depleting.
Employing an expert trucking organization can take a lot of that pressure off your plate. So what amount does a trucking organization cost?
In 2021 the normal UK removal company costs for a 3-bed house traveling 50 miles are generally £1,181. This includes packing services and materials (£250), as well as reassembling furniture at your new home (£125). 
---
How would I Estimate my Moving Expenses? 
Assessing the expense of moving to another home includes plenty of factors. Here are some significant move cost factors… 
 Move size – bigger moves are more costly 
 Distance – the more drawn out the distance the more the move will cost 
 Season – summer evaluating is higher because it's peak season 
 Moving date – moving costs will in general be the more moderate center of the week and center of the month 
 Strength things – piano, pool tables, hot tubs, cruisers, safes, and so on are costly to move 
 Extra expenses – pressing supplies, long convey charges, full pressing, unloading, transport truck expenses, travel expenses. 
What is the Appropriate time to Move?
When your offer has been acknowledged on a house and you've had your property review results, you'll need to pick your moving date at the earliest opportunity. You should look at moving companies near me prices and book a removal date.
The time to move is now. MTC London Removals Company are the specialists in home and office removals across the UK. We understand that when it comes to moving, timing is everything. That's why we offer a range of removal services to meet your specific needs, whether you're moving locally, nationally or internationally.
MTC Removals has over 12 years of experience in the removals industry, so you can be sure that we'll handle your belongings with care. We also offer a wide range of packing services to protect your possessions during transit, as well as secure storage facilities should you need them. For more information or a free removal quote,