How MTC Removals Ensures Efficient and Timely Packing Services
At MTC Removals, we understand the importance of efficient and timely packing when it comes to relocation. We take pride in providing top-notch packing services that not only ensure the safety of your belongings but also help you save valuable time during the moving process. In this article, we will explain our approach to packing and share valuable tips and techniques to help you optimize your packing time.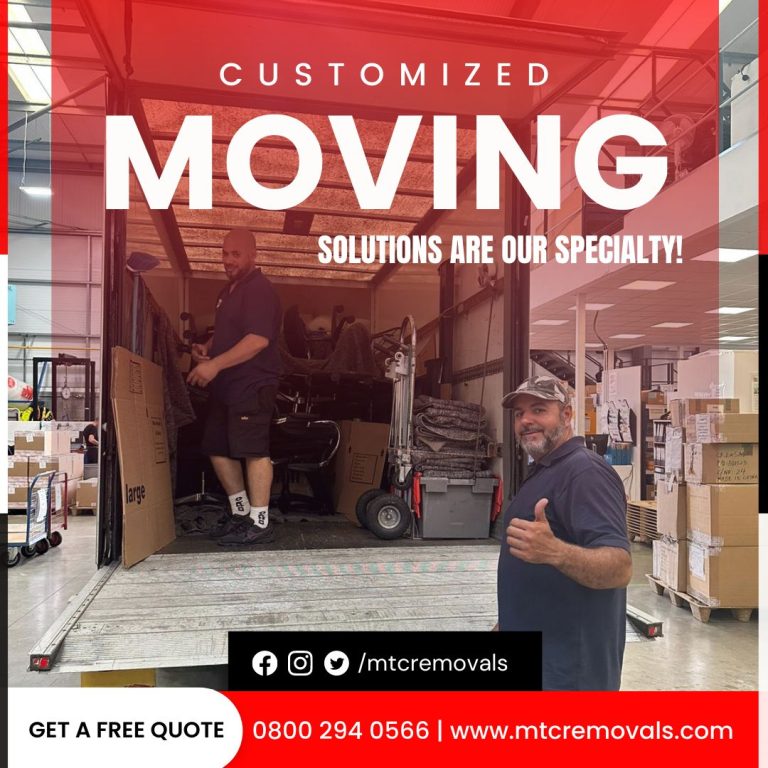 Experienced Packers
Keep in mind that inexperienced packers won't be as efficient, so 4-6 hours per room is a better estimate.
| Home Size | Time to pack |
| --- | --- |
| Studio/one-bedroom apartment | 10-12 hours |
| One-bedroom home | 1-2 days |
| Two-bedroom home | 2-3 days |
| Three-bedroom home | 3-5 days |
| Four-bedroom home | 4-6 days |
| Five-bedroom home | 7 days |
Expertise in Packing Techniques for Time Management
With our extensive experience in the moving industry, MTC Removals excels in efficient packing techniques that save you time and energy. Our team of professional movers is well-trained in the art of efficient packing, from properly categorizing your items to employing strategic loading and organization within moving boxes. By utilizing these time-saving techniques, we help you make the most of your packing time.
Quality Packing Materials for Enhanced Efficiency
We strongly believe that using the right packing materials is vital for a smooth and efficient packing process. MTC Removals is committed to providing you with high-quality packing materials that ensure the safety of your belongings. From sturdy moving boxes to bubble wrap and protective covers, we have all the necessary packing supplies to secure your items during transit. By investing in top-grade packing materials, we enhance the efficiency and effectiveness of our packing services.
Customized Packing Solutions to Suit Your Needs
At MTC Removals, we recognize that every customer has unique packing requirements. Whether you need assistance with fragile packing, last-minute packing, or a full-service packing solution, we have you covered. Our team understands the importance of personalization and will work closely with you to develop a customized packing plan that meets your specific needs. By providing tailored packing solutions, we ensure efficient packing without compromising the safety of your belongings.
Time-Saving Tips for Efficient Packing
Packing for a move can be overwhelming, but with our expert guidance, you can save valuable time. Here are some time-saving tips to help you pack efficiently:
Create a Packing Checklist: Make a detailed checklist of all the tasks you need to complete before your moving day. This will help you stay organized and ensure that you don't miss anything important.
Pack in Advance: Start your packing process early to avoid last-minute rushing. Begin with items that you use less frequently and gradually work your way to everyday essentials. This will help you maintain a steady packing pace and alleviate stress.
Delegate and Seek Packing Assistance: If you're feeling overwhelmed, don't hesitate to ask for help. Involve friends or family members to assist you with packing tasks, especially for heavy lifting and time-consuming packing jobs.
Use Efficient Packing Techniques: When packing fragile items, utilize proper packing techniques to ensure their safe transportation. Wrap delicate items in bubble wrap or packing paper and label the boxes with keywords like "fragile" or "handle with care."
Optimize Luggage Organization: If you're traveling during your move, use your suitcases and travel bags to transport some of your belongings. This will save you space in moving boxes and make the unpacking process easier at your new destination.
Consider Professional Packing Services: If time is of the essence or you require additional packing expertise, MTC Removals offers professional packing services. Our experienced team will efficiently pack your belongings, allowing you to focus on other aspects of your move.
 
Efficient Packing for a Stress-Free Move
MTC Removals takes pride in providing exceptional packing services designed to save you time and ensure the safety of your personal belongings. Our meticulous attention to detail, expertise in packing techniques, utilization of high-quality packing materials, and commitment to customization will make your packing experience seamless and stress-free.
Conclusion
When it comes to efficient and timely packing services, MTC Removals is your trusted partner. Our team of highly skilled professionals is dedicated to maximizing your packing time and ensuring the secure transportation of your belongings. Through our expertise, customized packing solutions, and valuable time-saving tips, we guarantee a packing service that outranks the competition. Contact us today to experience the MTC Removals difference and enjoy a stress-free and efficient move.