Get a Free Instant Quote in less than 5 Minutes


Move House Quickly with the Help of our Professional Removal Services
Hire a Moving Company London
Hire the Right Man with a Van in London
Man and Van Hire London  – We Have the Tools & the People to Help You Move Anything, Anywhere in UK – Call Our Removals Team For a Free House Removals Quote .
We Will Do All The Work Will Be Carried Out In The Safest Way & To The Highest Standards
When it comes to moving your house, you want to make sure you do it right. You want to know that everything is being moved and that it's going to be safe in the process. But can you actually take care of everything on your own? Hire Man and van London , Can you really get all of your equipment, products, personal belongings, and more from your current location to your new site? Chances are it's not something that you even want to try for yourself. That's why you may be looking to hire a man and van London.
Why You Need a Professional Removals Company
The truth is that you can take care of your own moving process, but you'll find yourself with a lot of hard work involved. That's why most people want to hire a man and van London . With the right team behind you, your next removal can be a whole lot easier than any you've experienced in the past. Rather than taking care of everything yourself and trying to keep everything you own safe, our team can take care of it for you.
Hire Man and Van
At MTC Removals professional removals company will help you with packing up all of your belongings. Whether you have a business, you're moving, or a family home, getting a professional team to help means that your belongings will all be much safer. While no one will care about your belongings as much as you do, the right removals team will make sure that everything is packed up just like it was their own belongings. That way, you don't have to worry about anything being missed or anything being broken or damaged along the way. That's what matters to you, right?
Man and Van Hire London – Get a Free Instant Quote in less than 5 Minutes – 48 Hour Cancellation – Get Prices Now!
Plus, they're going to take inventory of everything. You want to make sure that all of your belongings are packed up and that all of those same belongings get off the truck. But it can be a hassle trying to do that yourself. A professional moving company is going to take care of that whole process for you. That way, you don't have to worry about anything. When they box everything up, it will be inventoried, and when they unload everything later, it gets inventoried again. That way, you can feel confident that nothing has been missed, and everything has been accounted for.
Hire Man and Van London - Book A Man And Van Instantly
Hire Local Movers | MTC Removals | Free Instant Quote
Hire The "CAN DO" Removal Company –  MTC Removals 
What's even better is you don't have to worry about all the time involved in packing up your belongings. Whether you're moving a house or a business, there's a lot that needs to be packed. There's a lot that needs to be done to make sure those items are packed safely. Hire a Moving Van Then it has to be transported and unpacked. And it all needs to be set up. It's a long process that can take a whole lot of time. But if you're trying to run your business or you're trying to live your life, that's likely time that you don't have available. After all, you're already spending enough time on all those other things.

Cheapest Man and Van Hire in London
Hire a Man and Van – Book in 60 seconds, All drivers are Insured, vetted and professional.
Man and van hire London is going to help you cut down on all of the time it takes to get things done. You don't have to worry about trying to pack up boxes around meetings at work or getting home after a long day to pack up all of your belongings. When you hire a professional removals company to take care of things for you, all you have to do is sit back and enjoy your life. You get on with all of the other things that you need to do and let them handle everything associated with the moving process.
Just think about all of the things you would have to do if you decided to do your moving yourself. Moving Helpers For Hire Near Me, You would have to pack up all of those belongings and make sure they were safe. You would have to load up those boxes, which can be heavy, and you would have to load up a lot of heavy furniture as well. No one really wants that, do you? When you hire a professional company, they take care of all of that heavy lifting for you. That means you get to relax (and save yourself the strain).
How to Hire the Right Team
When it comes to the process of hiring someone, you still want to make sure you get it right. You want to know that your belongings are going to be safe and that everything is going to be carried out the way you would expect. But how can you be sure of that? With so many different companies you want to hire a man and van London that will give you the best possible care for the money. That's where you need to do a little bit of research for yourself to see what they have to offer you.
The first thing that most people look at is the price, but that's definitely not the most important thing. You want to make sure you're hiring a moving company that will get the job done right, and you're likely willing to pay a little bit more to make sure that happens. So, the first thing you should look at is ability. You want to know that the team you're thinking about hiring is able to do the work you want. Not every removals company will take care of all of the tasks you may need.


Hire Movers London – Cheapest House & Office Removals in London
Hire Movers For One Day, Some companies only come to your house, pick up the boxes you've already packed and then drop them off at your new location. If that's all you're looking for, then you'll have an easier time finding someone. But if you want someone that can help you with the packing process, you need to do a little more looking. If you want someone that can help you clean up after you've moved out, that's something else entirely. And if you need someone to take care of disposing of waste when you're all done, that's an essential factor to consider as well. Make sure the company you're looking at is able to do all of the things you need.
Next, make sure you're getting feedback. That means talking to people that you know and even looking for information from people you don't know. Ask friends, family, peers, and other business owners just who they hired for removals. Look online for reviews for those companies and any others that you've found. There are a number of websites you can check for third party reviews, so you get the most objective feedback. This will help you narrow down who you want to work with.
Hire a House Movers
You want to know about security features that will protect your belongings, no matter how far you have to travel. That means talking to any companies that you're considering about how their vehicles are tracked and how they keep your belongings protected when they have them. You'll want things like GPS tracking, security systems, and definitely attentive professionals who are going to do everything they can to keep your belongings as safe as they would want their own belongings to be. When you hire a man and van London , you need to know these things are standard and to be expected.
Pricing is always going to be important, as well. There's no getting around the fact that you probably have a budget, and you definitely have to make a plan. That means starting with a quote. You may want to call in more than one company to give you a quote for the job and make sure to get it in writing. It should tell you everything that's included in the quote, as well as any upgrades that you can take if you want them. That way, you can compare the quotes from each company and see what works best for your needs.
Man and Van Hire London – Prices Starting From £60P/H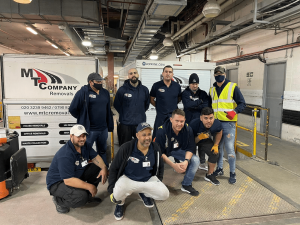 Hiring a Moving Company near me – Get It Moved For Less. Get Quotes In Minutes.
Keep in mind that the price you're quoted shouldn't be the only factor. This is something to consider only after you've looked at all of the other things mentioned. Even after you've narrowed things down, you still want to weigh out the quote you've been given with any of the other factors or features you've learned about that company. Maybe the one that has a higher rate offers more with that rate. Perhaps the one that has a lower rate has a few more negative reviews. Being the highest or the lowest price doesn't always mean they're the best (or the worst). It's just one more thing to consider.
Why Choose Us
If you're looking to Hire a Man and van London , Why would you want to work with us? Well, we have a whole lot to offer, no matter what type of removal you're going through. If you want to move in a hurry or you have a long time to plan it all out, we can accommodate you and get your business or family into your new place on your schedule. After all, that's the most essential part of hiring someone to help you, right?
MTC Removals team offers all of the services that you need from basic man and van services up to packing, cleaning, and waste disposal. No matter what level of service you need or even if you change your mind along the way, we can accommodate all of the tasks that you need. Our team uses the best quality materials to pack your belongings and makes sure to treat everything with the care that it deserves. That way, you know that your items are going to arrive where you need them in the same condition they were when they were packaged and loaded.
When we give you a quote, you can trust that there won't be any surprises. We provide budget-friendly quotes to make sure you can get through the moving process as easy as possible. Then, we stick to that quote. You don't have to worry about surprise costs on moving day or when your belongings are dropped off. The quote we give you is exactly what you'll be charged when you get your bill. That way, you don't have to worry about a thing. We aren't out to get more money from you. We want to make this process as simple as possible.
Hire a Moving Company near me
When it comes to everything we do, you are the one that matters most. We want you to be happy with the service that we provide, and that's why we guarantee your satisfaction. Not only that, but we have the best possible team on hand to answer all of your questions and concerns along the way. We'll take care of any questions you have before you even sign a contract with us, and then we'll keep you updated and answer anything else you might need along the way. We never want you to feel like you're in the dark.
In keeping with our satisfaction guarantee, we have a 100% positive rating with our customers. They know that they can come to us with any questions or concerns and that we'll take care of everything. Not only that, but they have received the best possible care from our team every step of the way. We strive to provide that same level of care and attention to everyone that works with us, and we will do the same for you. After all, the most critical part of our job is you.
If you're looking for man and van hire London ;
then, you don't want to miss out on the services that we can provide. MTC Removals team is ready and able to take care of anything you need. Whether you're looking for the basics or you want something more intense, our team is equipped to take care of it all. We'll get you from nothing to moved in in no time. After all, that's why you want to hire a professional to help you out, right? You definitely want someone that can keep you on track and feeling comfortable throughout the entire process. Just give us a call to get started. 
Get a Free Instant Quote in less than 5 Minutes


About Hiring Man And Van London For Your Moving Day.
Movers to Load Truck near me
Hire a Man and Van London – #1 Packing & Moving Service
Hire a Man and Van London when you want to move to another location, Hourly movers near me, finding the other house or apartment seems like the most challenging thing, but in reality, it isn't. Moving out is the most substantial part. You have to take and move
all furniture, beds, closets that sound exhausting. It is, however, when you run your household we recommend you to find the appropriate removal company like MTC Hire Movers London .
Man and Van London Hire, Courier & Removals
Hire Moving Company | MTC Removals
Thinking about Moving Home? Get a little help from MTC Removals!
 

Over 10 Years Experience.

 Highly Trained Customer Friendly Staff.

 Free Same Day Quotes.

 Call or Email for Expert Help & Advice.

  Eco Friendly Service.

 No Booking Fees

 Very Good Google Reviews

 Very Competitive Rates
Why You Shouldn't Consider DIY and Hire Professional House Movers Company Instead?
Hire Movers to Load Truck – MTC Removals 
Hiring professional houses movers company to help you with your relocation needs can result to an stress-free and smooth moving experience. If you're thinking about hiring professionals, these are the reasons why they may come in handy for your next move.
Reliability
Professional house movers company will be the most reliable option instead of attempting to move through the help of family and friends. Professional movers basically undergo rigorous training to know the best moving methods so they can keep your things safe.
Peace of Mind
Planning for your move can be a bit overwhelming at times. Man and Van Hire London professionals know the best ways to handle your items and to navigate roads to keep all your things protected and safe. With this in mind, you can be assured that your belongings are in good hands and will help you experience peace of mind.
Fast Service
Moving companies can give you the time and date that you can expect all your things to arrive at your new house. Most companies pride themselves on professional and prompt service. Through searching for a good mover, you may simplify and expedite the process of moving. Aside from that, they could squeeze your couch through the staircase quickly.
Accountability and Efficiency
Movers are accountable for your move and would work to make sure that all of your things will arrive at your new place safely. Moving without the assistance of professionals will give you the responsibility to see that your belongings will arrive safely that may result to added stress during the process of relocation.
Professionals are also more efficient when handling bulky things including heavy boxes and furniture during the relocation and would be able to transfer all your items efficiently.
Say Goodbye to Heavy Lifting
Without training and skills, heavy lifting may result to back strain and some health-related problems. Moving help by the hour – You may also avoid heavy lifting during your relocation through hiring professional movers company to help you with the entire process.
Professional Process of Inventory
Having an inventory of each of your belongings in your house can be a challenging task, yet with the help of professional house movers company, they can handle it for you. It would help you ensure that your things will arrive safely to your new house without spending so much time tracking every item or individual box in your house.
Hassle-Free
If you have considered asking family or friends to help you move, it is essential to know the hassles and risks that go along with it. Packing your entire house through the assistance of some of your friends is much challenging than hiring professional movers for packing your boxes as well as transport them to your new house safely.
Experienced Movers
In the world of moving industry, experience matters a lot. Experienced movers can address your concerns and give you an efficient, safe, and fast moving experience.
Safety
Hiring professional house movers company frequently leads to a much safer moving process. Hire Man and Van London experienced movers know how to transport any items. They can also unload and load boxes, pack lamps properly, and wrap mattresses safely. To eliminate or reduce damage to your items, professionals use the right materials to avoid potential problems. https://en.wikipedia.org/wiki/London