What You Need To Know About Home Removal Surveys
If you're like most people, when you think of a home removal survey, the first thing that comes to mind is a physical inspection of your home before you move. While this is certainly one important function of a home removal survey, there are actually several other reasons why you might need one. In this blog post, we'll discuss what a home removal survey is and what you can expect from it. We'll also cover some of the most common reasons why people request them. So if you're considering moving in the near future and are wondering if a home removal survey is right for you, keep reading!
MTC Removals is a professional removal company that offers a wide range of services to its clients. Whether you are moving house or office, MTC London Removals Company can help you with all your removal needs. MTC Removals has a team of experienced and qualified staff who are skilled in all aspects of removal work. MTC Removals offers a free quotation service so that you can get an accurate quote for your removal work.
MTC Removals also offers a wide range of storage options so that you can store your belongings safely and securely. MTC Removals is committed to providing the best possible service to its clients and offers a money back guarantee if you are not satisfied with the work carried out. Contact MTC Removals today for a free quotation.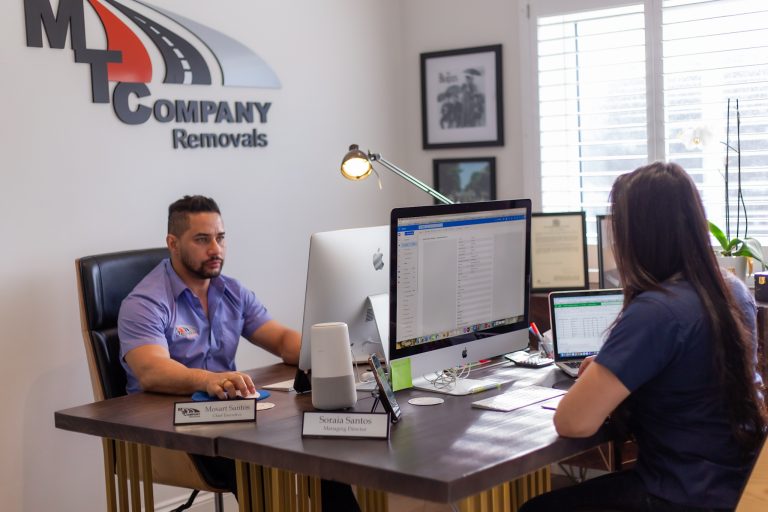 What is a home removal survey and why do you need one?
Wondering what goes into a home removal survey? This guide will tell you everything you need to know!
Wondering what goes into a home removal survey? A home removal survey is an important step in the home buying and selling process. It allows you to have a thorough inspection of the property you are interested in purchasing or selling, and to identify any potential problems that could impact the value of the property. The surveyor will assess the condition of the property, taking into account factors such as its structural integrity, any dampness or mould growth, and any subsidence issues. They will also check for any signs of damage from termites or other pests.
In addition, the surveyor will provide you with a report detailing their findings and offering advice on how to proceed. This guide will tell you everything you need to know about home removal surveys, so that you can make informed decisions about your property purchase or sale.
How Does a Home Removals Survey Work?
Once the home removal survey has been arranged, a representative from the moving company will arrive to assess the items needing to be moved. They will need access to every area and room in the property to provide an accurate quote. From bedrooms and lofts, to sheds and garages, you should provide safe access to as many areas as possible.
You will be required to point out any items staying in the home or that you're selling before the move.
This will prevent them from adding unnecessary charges to your final quotation. You should also highlight whether you'll require additional services during the home removal survey, such as packing services, storage or furniture dismantling.
During a home removal survey, the representative will also take measurements of doorways, hallways and staircases. They will assess whether any large furniture items need to be disassembled before they can be removed from the property. This is important information for their team when it comes to planning the move and ensuring a smooth operation on the day. Once the survey is complete, you will be given a written quotation based on the services you've requested and agreed upon. This document is important as it provides a clear breakdown of all costs associated with your move. It's also useful for comparing removal quotes from different removal companies.
A home removal survey is an essential part of planning your house move and enables you to get an accurate quotation for the work required. By being prepared and knowing what to expect, you can make sure that everything goes smoothly on the day.
What is the duration of a home removals survey?
How Long Does a Home Removals Survey Take? The time it takes to carry out a home removal survey will largely depend on the size of your property. On average, an assessment can last around 30 minutes. As providing a quotation is a free service, and you may be busy during the day, some representatives may want to limit the time it takes to provide you with a quote. This means that they usually keep the survey as short as possible. If you have any special requests or requests for additional services, then the survey may take slightly longer.
For example, if you need help packing or unpacking your belongings, then this will add to the time it takes to carry out the survey. Nevertheless, in most cases, a home removal survey should not take more than an hour. So, if you are planning on moving house soon, make sure to allow enough time for the representative to assess your property properly.
Here are some questions you might be asked by the removal company.
Questions the Removal Company May Ask You: The representative from the removal company you contact will likely ask you a few questions regarding the accessibility of your home as this is a major factor in any house move. Questions may pertain to parking, limited access areas, obstacles, and whether there are any lifts or stairs present. Additionally, they will most likely inquire about your budget. It's important to note that you don't have to give an exact answer to this question as some unreliable companies may use your budget to influence their quotation.
Instead, explain to your representative which aspects of your move are the most important to you (e.g., help with packing or any furniture that needs dismantling) as these services may increase the budget. Lastly, they'll probably ask you about the number of rooms in your property, including the loft, cellar, and garden (if applicable). By asking these questions, the representative from the removal company will be able to get a better understanding of what your needs are and provide you with an accurate estimate.
The Top Questions to Ask Your Removal Company
Questions to Ask the Removal Company – It's recommended to ask as many questions as you can to get a good idea of the company and what will be happening on your moving day. Here at MTC London Removals Company , we recommend that you specifically ask about the company's insurance and how you'll be covered during the relocation. It would also be wise to ask about other services they offer as, if they offer packing services, they can take that into account during the survey also.
 What is a home removal survey and why do you need one?
How do you choose the right surveyor for your needs?
What should you expect from the survey process?
How much does a home removal survey cost, and is it worth it in the end?
Tips for ensuring a smooth and stress-free home removal process.
 
You may want to ask the removal company questions about timescales and how they plan to organise the move so that you and the property can be prepared in time. For a list of other useful questions to ask your removal company, you can read our guide here where we state what will be most beneficial for you to ask and why. Questions such as these will give you a much better understanding of what to expect from your chosen removal company and provide peace of mind in knowing that you've made the right decision – moving faqs
Adding additional services to the conversation
Discussing additional services is an important part of the home moving survey. This is because it helps to identify what services are available and whether they would be beneficial for the move. It is also important to understand the cost of these services so that you can make an informed decision about whether to use them. Some common additional services include packing, providing packing materials, dismantling and reassembling furniture, and storage options. These services can all help to make the moving process a little bit easier and less stressful. However, it is important to understand the costs involved before making any decisions. Once you have all the information, you can decide whether using additional services is right for you:
MTC Removals, Services we offer:
• Professional and affordable packing and moving service
• Wide range of packing materials to suit your needs
• Experienced staff will take care of your belongings
• Short-term and long-term storage options available
• Free quote
What is a Video Home Removals Survey?
Video home removal surveys are a modern version of the home removal survey. They tap into recognised and established application technologies that are tailored to the purpose of helping movers get a quick and accurate quote for their removal. By using your smartphone, tablet or laptop you're able to contact your removal company who will then survey your home via the camera and quickly provide an accurate quote on how much your move will cost. This is all without having a surveyor physically come out and visit your home, making the whole process a lot quicker, easier and potentially less costly.
When arranging a video home removals survey you will need to:
Video home removals surveys are becoming increasingly popular as a way to get an accurate quote for your move. Here's how they work:
First, you'll need to schedule a time for the survey to be conducted. This can be done online or over the phone. Once the survey is scheduled, a qualified representative will come to your home and conduct the survey. They will ask questions about the items you need to move and take measurements of your home.
After the survey is completed, you'll receive a quote based on the information collected. This quote will give you an accurate estimate of the cost of your move. Video surveys are a great way to get an accurate quote and save time.
The Best Way to Prepare for a Moving Survey
Most people use a professional moving company to help them when they're changing homes. Part of the service offered by the company is sending a representative to do a moving survey. This is basically an inspection of your home to help the company understand what's involved in the move, and also to give you an accurate quote. There are some things you can do to prepare for the survey, which will make it more efficient and helpful.
First, make a list of questions you want to ask the representative.
This will ensure that you get all the information you need, and that you don't forget anything important. It's also a good idea to declutter your property before the survey. This will help the representative get a better understanding of the amount of stuff that needs to be moved, and it will also make it easier for them to access each room. Finally, label any fragile or valuable items so that the removal team knows they need to be handled with care. By taking these steps, you can help make sure your moving survey is as productive as possible.
Get a discount on your removals today
So, what are you waiting for? Contact MTC Removals Company LTD today to book your removal survey and save on your move. Remember, the earlier you book, the more money you can save! Have you used our services before? Leave us a review and let us know how we did. Thanks for reading our guide on home removal surveys – we hope it was helpful.
Key Factors, Pros, and 8 Best FAQs About Home Removal

Surveys

:

What They Are and Why You Need One | MTC

Removals
If you're planning a home removal, you may have heard of a home removal survey. But what exactly is it, and why do you need one? In this guide, we'll dive into the key factors, pros, and frequently asked questions about home removal surveys to help you understand their importance in ensuring a successful and stress-free move.
Key Factors:
A home removal survey is an assessment of your home's contents and access points by a professional removals surveyor. The surveyor will take inventory of your belongings, assess the space and accessibility of your home, and make note of any items that may require special handling or equipment during the move. The information collected during the survey will be used to create a detailed quote and plan for your home removal, including the necessary equipment, number of removals staff, and estimated time for the move.
Pros:
A home removal survey ensures that you receive an accurate and detailed quote for your move, preventing any surprises or unexpected costs. The survey helps removals companies determine the appropriate equipment and staff needed for your move, ensuring that it is completed efficiently and safely. Home removal surveys give you the opportunity to discuss any special requirements or concerns with the removals company, allowing them to tailor their services to your unique needs. 8 Best FAQs:
How long does a home removal survey take?
A typical home removal survey takes around 30 minutes to an hour, depending on the size and complexity of your home.
Do I need to be present during the home removal survey?
While it's not necessary, it's recommended that you are present during the survey to ensure that all of your concerns and questions are addressed. Is a home removal survey free? Most reputable removals companies offer free home removal surveys as part of their services.
How soon before my move should I schedule a home removal survey?
It's recommended that you schedule a home removal survey at least 2-3 weeks before your move to allow sufficient time for planning and preparation.
Can I request a virtual home removal survey?
Yes, some removals companies offer virtual home removal surveys, allowing you to conduct the survey remotely using video conferencing tools.
What should I expect during the home removal survey?
The surveyor will walk through your home, taking inventory of your belongings and assessing access points. They may also ask questions about your moving requirements and concerns.
Can I get a quote without a home removal survey?
While it's possible to receive a rough estimate without a survey, a home removal survey is necessary for an accurate and detailed quote.
How can I find a reputable removals company for a home removal survey?
Look for removals companies with positive reviews, proper licensing and insurance, and transparent pricing. You can also ask for recommendations from friends or family members who have used removals services in the past.
Conclusion: In summary, a home removal survey is a crucial step in ensuring a successful and stress-free move. It provides removals companies with the necessary information to plan and execute your move efficiently and safely, while giving you the opportunity to discuss any special requirements or concerns. By understanding the key factors, pros, and FAQs about home removal surveys, including moving house surveys, home survey for removals, and other related topics, you'll be better equipped to make informed decisions and ensure a seamless home