Influence of Brexit on British Nationals & Trade in the EU
The Britain's historic vote to quit from the EU came as a shock for many British nationals, and everyone around the world. How might this change trading and British nationals moving from the UK to Europe post-Brexit? Seems a big question mark! Well, neither UK nor EU should overpass how Brexit could affect British nationals settled around EU or in UK, and trading between the borders. 
Exchange of goods and movement from UK to Europe is more likely to become problematic since you are bound to follow formal channels. Things aren't going to be as simple as they used to be once. However, the Brexit deal enables UK nationals to have their existing freedom of movement and EU citizenship rights until 31 December 2020 – the end of British transition period. Indeed, Brexit create uncertainties on many aspects, social, political, economic, and trading. 
What British Nationals Living In EU Need To Know?

 
While about 1.3 million UK nationals are living in EU27, there are 3.2m EU27 nationals are resident in UK. In case UK cut all the ties from the European Union without an agreement, UK government would make sure that UK citizen rights (including EU citizens living in the UK and British nationals in the EU) are secured throughout the event. Though, the steps and guidance to prepare for Brexit event varies depending on where you want to continue living either UK or any EU country. 
Due to unclear and uncertain future, many British nationals are in view of moving from the UK to Europe post-Brexit. However, both parties showed their consent on a transition period. According to UK parliamentary committee, those EU expats who are resident in UK would surrender their freedom of movement, housing rights, and social security under ruling designed to supervise immigration post-Brexit. British Government also reassures EU expats living in UK regarding their rights in a post-Brexit world. All they need to do is register them with a scheme on a free online portal. EU citizens can apply within specific time limit – that is 31 December 2020.
What about British Nationals Living In EU27 Countries?

 
There are many British expats living in EU countries. In Spain, British nationals are more concerned about keeping their income afloat. Access to Healthcare is another worry for them. They have been urged to apply before the cutoff date to make sure Spanish authorities recognise their residencies in a post-Brexit event. Another concern by UK nationals residing in any EU country is that they are not allowed to move to Germany after withdrawal. 
For Britons living in Ireland, there is a sigh of relief. According to both sides, Common Travel Area will remain active. Under the CTA, Irish and British nationals can work and move freely in both territories. 
For generations, France fisherman has been hunting fishes freely in UK waters under EU rules. But, now they fear post-Brexit losses after Britain leaves the EU. French government also claims that they will maintain Visa-free travel for British citizens as long as UK government does the same. 
There are around 7,000 British nationals that reside in the Czech Republic. Until now, Czech Republic's plan of action seems to be the most generous one. This January, they were striving to approve a bill which would secure the rights of British nationals residing in the Czech Republic for a transition period until December, 2020. Meanwhile, a fast track legislative process was utilised to ratify the bill. 
The Effects of Brexit on the UK's Trade

 
Currently, EU members don't pay any tariffs on EU goods going out or coming in. It is quite possible for UK to leave the EU with no deal. This would depict trading with EU will proceed on WTO (World trade organisation) terms. It's a place where 164 countries negotiate the rules of international trade. Now, each member sets their own duty and tariffs on goods coming in from abroad as well as quotas on how much of each product can be imported. Countries within EU have established one uniform tariff for goods coming into the alliance from outside. Now, these tariffs vary depending on the industry. So, if the UK were to trade with EU on WTO terms, it would mean all manufacturers would be paying an export tax on electrical machinery of 2.5%, it would be 10% on British cars and for dairy and cheese farmers, the export duty would be almost 36%. Hence, tariffs would also be felt by the UK consumers.
Brexit could slow down the import and export of goods which poses a major business risk for companies that transport fresh produce. All the imports and exports will be subjected to different laws. Those who are running businesses or are suppliers, they will be needing different permits, additional documentations, facing the longer waiting times, less flexibility, and tariffs. This is how trading will look like after Brexit. 
Let's have a look at the numbers. In 2017, 44% of all UK exports set out to the EU, whereas 53% of all UK imports arrived from the EU. As a coalition, EU countries trade more to the UK than the other way. 
The Newest Updates
Recently on 4 April 2019, the European parliament elected to assure UK nationals will continue to take advantage from Visa-free travel to EU countries even after the deadline. This is especially in case of no deal provided that EU migrants moving to UK would also get the same treatment. After transition period is over, you are supposed to get Visa for any type of movement, similar to other visitors of the world. 
Prime Minister Theresa May's Brexit deal has been rejected by 230 votes – the largest defeat for a sitting government in history.
MPs voted by 432 votes to 202 to reject the deal, which sets out the terms of Britain's exit from the EU on 29 March.
Labour leader Jeremy Corbyn has now tabled a vote of no confidence in the government, which could trigger a general election.
The confidence vote is expected to be held at about 1900 GMT on Wednesday.
The defeat is a huge blow for Mrs May, who has spent more than two years hammering out a deal with the EU.
The plan was aimed at bringing about an orderly departure from the EU on 29 March, and setting up a 21-month transition period to negotiate a free trade deal.
The vote was originally due to take place in December, but Mrs May delayed it to try and win the support of more MPs.
The UK is still on course to leave on 29 March but the defeat throws the manner of that departure – and the timing of it – into further doubt.
MPs who want either a further referendum, a softer version of the Brexit proposed by Mrs May, to stop Brexit altogether or to leave without a deal, will ramp up their efforts to get what they want, as a weakened PM offered to listen to their arguments.
---
Laura Kuenssberg: May's nightmare
History was made tonight with the scale of this defeat – a higher figure than the wildest of numbers that were gossiped about before the vote.
But the prime minister's dilemma is a more serious version of the same it's always been.
She has no majority of her own in Parliament to make her middle way through stick. And her many critics don't agree on the direction she should take – a more dramatic break with the EU, or a tighter, softer version.
Those two fundamental and clashing positions have always threatened to pull her and the government apart.
Read more from Laura
---
The Brexit debate has cut across traditional party lines.
Some 118 Conservative MPs – from both the Leave and Remain wings of her party – voted with the opposition parties against Mrs May's deal.
And three Labour MPs supported the prime minister's deal: Ian Austin (Dudley North), Kevin Barron (Rother Valley) and John Mann (Bassetlaw).
The most controversial sticking point was the issue of the Northern Irish backstop – the fallback plan to avoid any return to physical border checks between the country and Ireland.
Mrs May had hoped new assurances from EU leaders this week, saying the backstop would be temporary and, if triggered, would last for "the shortest possible period", would help her garner more support.
But in the debate leading up to the vote, members from all sides of the House said the move did not go far enough.
Click here if you cannot see the look-up. Data from Commons Votes Services.
In normal times, such a crushing defeat on a key piece of government legislation would be expected to be followed by a prime ministerial resignation.
But Mrs May signalled her intention to carry on in a statement immediately after the vote.
"The House has spoken and this government will listen," she told MPs.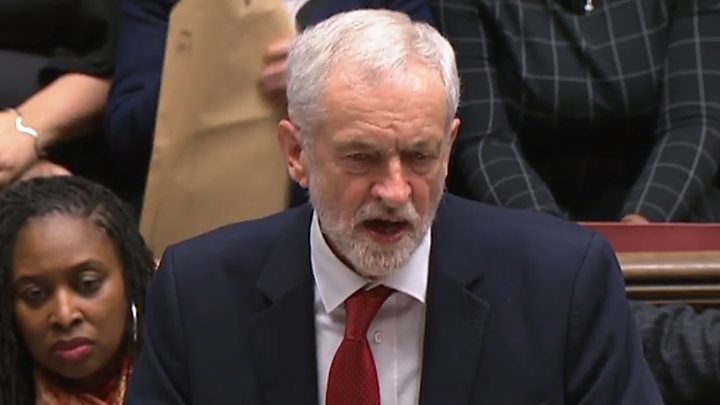 She offered cross-party talks to determine a way forward on Brexit, if she succeeded in winning the confidence vote.
Former foreign secretary and leading Brexiteer Boris Johnson said it was a "bigger defeat than people have been expecting" – and it meant Mrs May's deal was now "dead".
But he said it gave the prime minister a "massive mandate to go back to Brussels" to negotiate a better deal, without the controversial Northern Ireland backstop.
And he said he would back Mrs May in Wednesday's confidence vote.
Labour MP Chuka Umunna said that if his leader did not secure a general election, Mr Corbyn should do what the "overwhelming majority" of Labour members want and get behind a further EU referendum.
Lib Dem leader Sir Vince Cable, who also wants a second referendum, said Mrs May's defeat was "the beginning of the end of Brexit" – but conceded that campaigners would not get one without Mr Corbyn's backing.
Scotland's First Minister Nicola Sturgeon said Mrs May had suffered "a defeat of historic proportions" and called again for the Article 50 "clock to be stopped" in order for another referendum to take place.
"We have reached the point now where it would be unconscionable to kick the can any further down the road," she said.
However, government minister Rory Stewart said there was no majority in the Commons for any Brexit plan, including another referendum.
---
How a confidence motion works
By the BBC's head of political research Peter Barnes
Under the Fixed Term Parliaments Act 2011, UK general elections are only supposed to happen every five years. The next one is due in 2022.
But a vote of no confidence lets MPs decide on whether they want the government to continue. The motion must be worded: "That this House has no confidence in Her Majesty's Government."
If a majority of MPs vote for the motion then it starts a 14-day countdown.
If during that time the current government, or any other alternative government cannot win a new vote of confidence, then an early general election would be called.
That election cannot happen for at least 25 working days.
---
MPs are set to debate Labour's no confidence motion for about six hours following Prime Minister's Questions at 1200.
Mr Corbyn said it would allow the House of Commons to "give its verdict on the sheer incompetence of this government".
But DUP leader Arlene Foster said her party, which keeps Mrs May in power, would be supporting her in Wednesday's confidence vote.
She told the BBC MPs had "acted in the best interests of the entire United Kingdom" by voting down the deal.
But she added: "We will give the government the space to set out a plan to secure a better deal."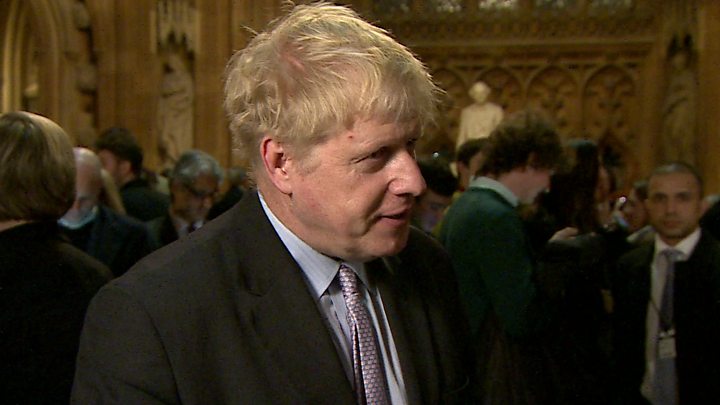 In her statement to MPs, Mrs May said she planned to return to the Commons next Monday with an alternative plan – if she survives the confidence vote.
She said she would explore any ideas from cross-party talks with the EU, but she remained committed to delivering on the result of the 2016 referendum.
But European Commission President Jean-Claude Juncker said the risk of a disorderly Brexit had increased as a result of the deal being voted down.
He said the agreement was "the only way to ensure an orderly withdrawal" and that he and President of the European Council, Donald Tusk, had "demonstrated goodwill" with additional clarifications this week to put MPs minds at rest.
"I urge the United Kingdom to clarify its intentions as soon as possible," he said. "Time is almost up."
Mr Tusk said he regretted the outcome of the vote and later tweeted to ask "who will finally have the courage to say what the only positive solution is?"
A statement from the Irish government also said it regretted the decision and that it "continues to believe that ratification of this agreement is the best way to ensure an orderly withdrawal of the UK".
It also said it will "continue to intensify preparations" for a no deal Brexit.
MPs to vote on Brexit bill in early June
Facebook Live curbed after NZ attack
The politics of a kitchen photo-op
Driving in Europe
A no-deal Brexit could also affect driving in Europe. Driving permits would be required to drive around the EU. This is because EU countries will no longer accept British driving licenses. Hence, driving permit may cost UK drivers up to £5.50. Along with it, driver must belong to Northern Ireland or Great Britain, with complete UK driving license and must be 18 years old or above. 
As Brexit clock is ticking, companies and people are moving from the UK to Europe post-Brexit amid the fear of uncertainty. This could have positive effect on trade of removals companies. 
As soon as withdrawal plan is accepted, the UK will gain access to 12-months transition period. During this period, UK can commence formal trade talks since it will no longer be an EU member. 
The current free-tariff trading seems valuable for removal companies providing services in the UK. Also, it gives them easy access to EU market. On the contrary, Brexit could trigger unfavorable tariffs that in turn could become a hurdle for removal companies while moving from the UK to Europe post-Brexit. Therefore, negotiation of new arrangements can prove valuable for removals companies. However, Brexit is somewhat associated with certain degree of ambiguity. This is why it is hard to say what effect it will have in the future. 
Another existing privilege is freedom of movement. Both parties can take benefit of Labor market. UK removal based companies have always benefitted from EU skilled workers. If free movement comes to end, it could prevent access of UK labors to EU based market. Similarly, it will open new doors for unemployed UK workers. Well, whatever the situation will be, removal companies would be overloaded with work for sure. 
The UK elected to exit EU by 52% to 48%. England and Wales both voted to withdraw from the European Union with large number of votes. So, whether it's a deal or no deal scenario, brace yourself for the extreme impact. Only time will tell about impact of Brexit and its benefits. Certainly, nobody knows for sure. However, one element is definitely there. And, that is unpredictability. 
Need help moving within the UK?

 
MTC Removal Company is prepared to meet all requirements of moving from the UK to Europe post-Brexit. MTC London Removals Company  based company has range of services for you including man and van London services, office relocation, and home removals. We strive to provide high-quality services at affordable pricing. Visit our website www.mtcremovals.com and get a free quote today. You can also give us a call at 08002940566. 
Regardless of small to large scale services, tangible items to office items, we assure security of all your belongings during the move. Our London based removals company is helping its customers relocating houses and offices for years. Our experienced and skilful staff ensures you get all the professional services you have desired for. At MTC London Removals Company , we know the ups and downs of shifting home. This is why we handle all the bothersome tasks ourselves and give our customers the peace of mind they deserve. Since we have years of experience in the removals industry, you can never end up in an uncontrollable situation.