Get a Free Instant Quote in less than 5 Minutes


With our Professional Moving Services, you can Move Quickly
Removals in Raynes Park – SW20 London
Are you excited to finally move into your new house in Raynes Park? In this suburban area located on the outskirts of London, you get to enjoy quieter country life with all the amenities of a big city.
Moving to a new locality sounds thrilling, but things get chaotic when it comes to packaging and moving all your belongings and stuff to the new space. Separating useful things from useless, carefully wrapping and packing all your valuables, and transferring them securely to your recently bought home is a tiresome process. 
But you can make your transfer easier, quicker, and more manageable by hiring a leading removal company in SW20, such as MTC London Removal Company. The full service moving company in SW20 will make your house or office removal a swift and stress-free ordeal.
Choosing the Best House Removal Company Matters
Getting a professional removal company in SW20 is crucial for safe and on-time home and office relocation. A well-known and fully equipped house removal team will take away the burden of moving your valuable belongings so you can focus on more important things, such as decorating your new home.
Preferring an experienced house removal company such as MTC London Removal Company brings you more benefits than you can imagine.
Professional Raynes Park house removals provide adequate packaging material for all your large and small stuff, furniture, and antiques.
A full-service Raynes Park house removal company will offer multiple services to their customers. Adequate transportation, disposing of waste, and finally assisting you in unpacking your stuff are a few services provided by professional moving services in SW20.

 
Moving means shifting your valuables, so you must be careful when hiring a removal company in SW20. A renowned moving company in SW20, such as the MTC London Removal Company, is licensed and fully insured, which means proper insurance coverage for all your precious goods.

Hiring the right house removal service brings you ease, comfort, and peace of mind. They speed up your relocation process, making sure the entire process is error-free and smooth.
Make Sure You Are Hiring the Right Raynes Park House Removals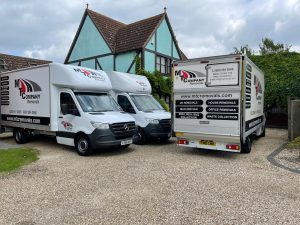 But before picking your moving partner, do some research on them. This guarantees the safe handling of all your accessories and furniture.
Check the list of services they provide and their experience level as a Raynes Park house moving company.

 
Moreover, do make sure they have fully trained movers, packers, and helpers.

 
Customer reviews and testimonials on the company website and other authentic platforms can help you develop a clear image of any moving service in SW20.
Experience Quick and Safe House Removals with MTC London Removals Company
MTC London Removals Company is a leading house removals company in London with a five-star rating thanks to our comprehensive services, professional attitude and friendly customer service. 
We have the right manpower and a fleet of modern vehicles that ensure you receive a smooth and safe transfer to your new house in Raynes Park. We schedule relocations as per our clients' wishes, and once all your stuff reaches the destination, our team will help you get settled in your new apartment with expert unpacking services. 
Raynes Park Removals - Fully Insured Service in SW20.
Removals in Raynes Park, SW20 - Trained and Trustworthy Staff
Removals in Raynes Park - Fully Insured Removals
What to Look for in a House Removal Company in Raynes Park, SW20 – London
0800 294 0566 – 079 0824 7249 – 020 3811 8380 – info@mtcremovals.com
Services We Offer
What makes MTC London Removals Company stand out from others?
An array of moving services under one roof, a dedicated workforce and professional attitude keep our customers away from distress during the long and tiring moving process.
Have is why our clients prefer our removal company in SW20.
Efficient Packaging Services
Properly packing your goods, fragile equipment, and expensive artefacts before loading them into the transport van is a big task. Therefore, our skilled team brings the right packaging material and size boxes to accurately pack and secure all your equipment and valuables.
All our packaging materials fully comply with the international standard preventing any damage to your stuff.
Waste and Disposal Services
House and office shifting allow you to declutter and get rid of unwanted stuff. But how to adequately dispose of all that waste when you have so much stuff to pack?
Leave the waste disposing task to our Raynes Park house removals company. Whether you want to discard useless things or get rid of all that outdated patio furniture, we know all the right authorities to contact.
We take care of our customers till the end so they can settle and feel relaxed in their new home. That is only possible when every box is unpacked, and every piece of furniture is arranged in the right corner.
And so we offer professional unpacking services where our team carefully unpacks all your valuables. Not to forget, we also help you organize your furniture, removing the burden of doing it on your own.
Reliable Man and Van Service
House transfers are accomplished on time when the moving company employs up-to-date and fast vehicles. Removals Company in East Sheen SW14 , We have trucks, movers, and vans that keep home and office transfers right on schedule. Besides vehicles, our skilled and licensed drivers possess all the skills for keeping your goods safe during the commute.
Are you undecided if every piece of furniture is needed in your new home?
Take benefit from our storage vault service. It's your valuables, massive home furniture or delicate home decorating accessories; we will safely store them in a vault. And finally, when it's time to move them for usage, we will take care of it as well.
Choose MTC London Removals for House and Office Removals Raynes Park
Safely transferring all your goods and products, be it small or big, require professional hands to do the job right. MTC London Removals Company is known for delivering personalized services to best meet the demands of our customers.
We ensure all your stuff is packed accurately, remain well-protected during transfer, and delivered to your new space in the shortest period. We are an insured and fully licensed moving company in town and bring you the best services at competitive prices. https://en.wikipedia.org/wiki/Raynes_Park
For Smooth Office And House Removals Raynes Park, Contact Us Today!