Get a Free Instant Quote in less than 5 Minutes


Packing and Moving Services in East Sheen, SW14, London, Friendly, Efficient & Reliable, Family run for over 10+ years Friendly . Dedicated Team. Full range of services: Fully Insured, Professional Packing,
Find Removal Services in East Sheen – MTC Removals
Moving Services for SW14 – East Sheen
SW14 East Sheen Removals, needed a backbone and MTC Removals delivered the right kind of reliance. The reliance of choosing the right company that serves the purpose and makes your moving and shifting experience the best one out there! Choose MTC Removals because we promise a trouble-free removal.
Calling out to all the people who are looking to hire a moving company that facilitates them fully and makes their move in SW14 East Sheen hassle-free and convenient, this ones for you! MTC Removals to the rescue with their services designed to compensate you fully.
The Services at MTC Removals For Your SW14 East Sheen Move
We at MTC London Removals Company know how packing and moving can easily stress out a lot of people, which is why our team of professionals come into the picture. With SW14 East Sheen Removals services, you can look ahead to moving while we worry and get the job done for you. It doesn't matter if you are moving apartments, offices or moving to a new home, let us take the strain and stress away from you, even our services are tailored to fulfil your moving needs.
Home Removal Services East Sheen
Office Removal Services East Sheen
Man and Van Services in East Sheen
Disposal Services East Sheen
Movers & Packers Company East Sheen
Home Clearing Services East Sheen
Office Clearing Services East Sheen
Hiring Crates in East Sheen
The Number 1 Movers & Packers in SW14 East Sheen! Open 7 Days A Week
Fast, Affordable - Removals in East Sheen SW14 - Removals To Anywhere In The UK
Packing and moving services in East Sheen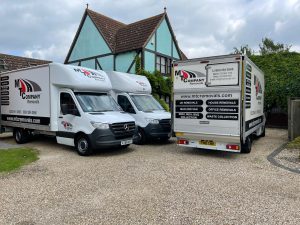 Undoubtedly, MTC Removals are the Movers and Packers Company in SW14 East Sheen that makes moving and shifting from one location to the other seamless and smooth.
From shifting all your items to packing all your belongings, labeling them for your ease, getting your home and office clean and tidy, disposing off all the unnecessary goods, clearing them every last piece of item for your ease. All thanks to MTC Removals Company in East Sheen SW14!
At the MTC Removals, we have a no-stress policy, and have a firm belief that clients should much rather enjoy their move rather than focusing on the apprehensive part of the shift. So you can easily walk in your new home, trust us for your packing, moving, and cleaning services.
Get a Free Instant Quote in less than 5 Minutes


Find a Professional Removal Company in East Sheen SW14
Local & National Removal Services in East Sheen – Residential & Commercial
Choose any of the services you want and we will be happy to serve and don't worry because all the services that we have are handled by a team of skilled people who ensure they leave you satisfied!
Why Choose Us for East Sheen SW14 Removals
All those wondering why choose MTC Removals? The real reason is why not? Our services are specially designed for our clients and we look into everything ourselves to ensure the process is running smoothly. Still can't decide why  to choose us? MTC Removals are the perfect Packing and Moving Company in East Sheen!
Up-to-date Vehicles:
One of the most imperative factors that contribute to making a moving process safe and secure, is having an equipped and top-notch vehicle. How can this be helpful? Our vehicles are updated and securely balanced to carry the weight of all your items. Who said there isn't someone out here who's thinking of you? With MTC Removals Removals Service in Barnes you have the right team to rely on!
Reliable Moving Service:
MTC Removals, a company that carries out the moving with extreme caution and safety, we ultimately become the company you can easily rely on! With our reliable packing and moving services in East Sheen SW14, make prompt moves. Reliability comes from MTC Removals, Removals Putney with our GPS protected vans, to track your belongings during the move. Our crates services to carry all your items, packing services to ensure packing is done in the right way using the right packing items. Our team has all the skilled people, who are reliable, resourceful and right for the job.
Smooth-Operation:
Choosing a moving service means having a smooth-operation, which means you are facilitated to the fullest. When we define smooth-operations we mean to offer a service that caters to all your needs. From hiring crates, to packing, having the right cleaning services done prior to moving, and serving you till your needs are catered to. MTC Removals has it all, from smooth to stress-free Moving in East Sheen SW14.
How Can You Hire Us?
Are you hoping to hire us to facilitate you in your move, then what are you waiting for? Get in touch with a customer representative at the MTC Removals for your East Sheen, SW14 move. Why worry when MTC Removals is the one doing the job for you! Planning to get in touch with us, here are some ways to make that happen conveniently.
Packing Services in East Sheen. Professional Packing Service Makes Your Move Easier
Our service providing method is quite convenient and to the point, meaning whatever we promise to you will be delivered to you fully and in the best possible way!
Moving experiences are sometimes stressful because the person who is right for the job isn't doing it. People usually don't want a moving company because of the high rates, but that's not the case at MTC Removals for East Sheen SW14! We offer a free quotation service to you, that helps you budget and avoid long calls if you are a busy-bee. Type in all the necessary details and get a quotation that's the right fit for you.
Do you want to know more information regarding the shift?

 

Contact us by calling us on our number 02038118380

, you can also leave a message on Whatsapp at

07908 247249

 

and a customer representative will answer your queries and questions.
Emailing us is also an option! Get in touch with us at info@mtcremovals.com and you will get a prompt response providing you the solution to your problems.

https://en.wikipedia.org/wiki/East_Sheen
MTC Removals for East Sheen SW14 is the right moving service for you!