What size truck do I need
When you're moving, one of the most important things to consider is what size van you'll need. If you hire a van that's too small, you might not be able to fit everything in – and if you hire a van that's too big, you'll be paying for space you don't need. So, what size removals van should you choose? Keep reading for our guide…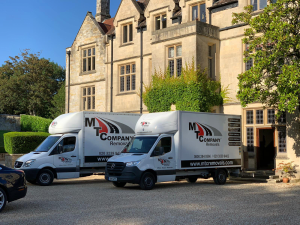 A Guide to Removal Van Sizes
Trying to work out which size van you need for your house move can feel impossible. But by using a professional and experienced removal company, you can make the process so much easier. They will be able to assess the items that need to be moved during the home removal survey, ensuring you're provided with the right moving van. In this blog, we will guide you through the different sizes of removal vans available, helping you to understand which is best for your requirement
How Big Are Removal Vans?
| | | |
| --- | --- | --- |
| Type of Removal Van | Average Loading Capacity in Cubic Feet  | Number of Boxes That Can Be Transported |
| Medium Wheelsbase Transit and Sprinter Van | 280 – 380 | |
| Long Wheelsbase Transit and Sprinter Van | 380 – 530 | 30 – 50 |
| 3.5 Luton Van | 550 | 40 – 60 |
| 7.5 Tonne Luton Van | 880 – 650 | 40 – 80 |
Small Removal Vans (LWB – Long Wheel Base)
A small removal van is typically Transit sized or smaller and is perfect for smaller loads or 1-bedroom flats and apartments. If you're moving a one-bedroom property with minimal furniture, a small removals van would be sufficient.
The average dimensions of a small removal van are.
| | |
| --- | --- |
| Volume  | 400 ft3 (11 m3) |
| Load Length  | 14ft 6" (4.4m) |
| Load Width  | 5ft 11" (1.8m) |
| Load Height  | 6ft 3" (1.9m) |
| payload  | 1000 kg |
Medium Removal Vans (SWB- Short Wheel Base)
A medium sized removal van is slightly larger than a small van and is designed for mid-range loads, such as 2 to 3-bedroom houses. If you have a lot of large pieces of furniture, like sofas, wardrobes, and chests of drawers, then a medium sized van would probably be more suitable.
Our medium wheelbase (MWB) vans are the perfect size for flats or apartments, and come equipped with an easy loading platform and high roof to make your move as efficient as possible. With a typical loading capacity of 30-40 boxes, our MWB vans have plenty of space for 1-2 people's belongings. And because we're one of the most popular removal van companies in the UK, we're able to offer incredibly competitive rates. 
The average dimensions of a medium sized van are:
| | |
| --- | --- |
| Volume | 500 ft3 (14 m3) |
| Load Length  | 18ft 5" (5.6m) |
| Load Width  | 5ft 11" (1.8m) |
| Load Height  | 6ft 3" (1.9m) |
|  payload  | 1200kg- 1500kg |
Large Removal Vans (MWB- Medium Wheel Base) As the name suggests, large removal vans are the biggest vehicles in our fleet and are designed for 3 or 4-bedroom properties with a lot of furniture. It's also worth considering choosing a large van if you have lots of smaller items that need moving, as they tend to have more storage space than medium and small vans. 
Our long wheelbase transit and sprinter vans are perfect for 1-2 bedroom flats, with plenty of space to accommodate all your belongings. With a loading capacity of up to 530 cubic feet, our vans can easily carry all your furniture, white goods, and boxes – up to 50 boxes if necessary! Whether you're moving locally or across the country, MTC Removals will get the job done quickly and efficiently. Contact us today to learn more!
The average dimensions of our large vans are:
| | |
| --- | --- |
| Volume  | 700 ft³ (20 m³) |
| Load Length  | 23ft 5" (7.2m) |
| Load Width  | 5ft 11" (1.8m) |
| Load Height  | 6ft 3"(1..9m) |
| payload over  | 1500kg |
3.5 Tonne Luton Van
3.5 tonne Luton vans are the perfect size for your needs. With a loading capacity of 550 cubic feet, we can easily fit around 45 boxes plus other furniture, making us the ideal choice for your next move. And because our vans are narrow enough to manoeuvre through narrow streets, we can get you to your new home or office with ease. So don't hesitate – call MTC Removals today and let us take the hassle out of your next move!
Luton vans 
are a popular choice amongst removal companies, especially 3.5 tonne Luggage's as they have the ability to load up quickly and easily navigate narrow streets with their tail lift feature that helps in London ensembles
| | | |
| --- | --- | --- |
| Length | 6746mm or  | 265 inches |
| Width  | 2140 mm  |  (81.96 inches) |
| Load Volume | 16m3 | 565ft3 |
| Height | 4.0m/13.1ft | 2.2m/7.2ft |
 

How much can you fit in a 3.5 Luton van?
Luton Vans are well-known for their durability and dependability. The average external dimensions of a Luton's vans (length: 6746mm or 265 inches; width 2140 mm , height 3169 mm ) with internal measurements being length 4082 millimetres, width 2082 micrometres high at its tallest point but never more than 8ft 4in due to load volume requirements making it an efficient means transport heavy loads over long distances without risk!

While most team prefer this type if vehicle for small house moves or 1 bedroom flats where it can hold 45 boxes without amenities other than furniture (60 total), larger households might need help from an alternative transport method due top its limited storage space – around 60 moveable items max!

Last Minute Moving: How to Move House at Short Notice
MTC Removals 7.5 Tonne Removal Truck! This powerful van is perfect for moving three-bedroom houses worth of furniture and appliances, with a loading capacity of 880-650 cubic feet. With space for up to 50 boxes, 4 beds, 3 sofas, 2 dining tables and sets of chairs, 3-4 wardrobes and most kitchen appliances, the MTC Removals 7.5 Tonne Luton Van has got you covered. Made with high-quality materials and construction, this van is built to last – ensuring peace of mind for you when undertaking even the most demanding of moves. hiring a moving company near me So why wait? Get the job done right with the MTC Removals 7.5 Tonne Luton Van today!

Equipment used for Moving?



• The type of moving equipment used will depend on the specific movers you choose.
• Most removal companies will need protective workwear, hoisting straps, furniture dollies, ramps, furniture blankets, crates or bins, and a basic toolkit.
• If the company offers additional services like packing, they may need packing tape and boxes, packing paper, and bubble wrap.
Conclusion: When trying to decide which size removal van you need for your move, it's important to consider both the amount and types of items you need to transport. If you have any questions or need any further advice, please don't hesitate to contact our team of experts who will be happy to help!